Saving Money on Groceries
Practical Money Saving Tips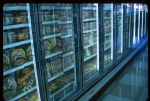 Moving on, let us talk a little bit (OK a lot) about saving money on groceries. Right now it is December 2010. My wife and I have four children, ranging from 4 to 11 years old.
Using home budgeting software, we currently average $325 a month for food. This is over the past 12 months, all of 2010, and I am trying to get that down to a goal of under $300.
We're going in the right direction as the last year average was $346.
Here are some things you may want to consider to help bring your own costs down when grocery shopping on a budget:
Make sure you are shopping at the cheapest places possible. In our neck of the words, we have Raley's which is the most expensive. The middle of the road is Save Mart, Food 4 Less, and the local stores. The cheapest of the regular stores is Food Maxx. There is one more level below this which we will get to in a bit -- the outlet or dented can stores.
We usually go to Food Maxx for items we need but did not pick up elsewhere cheaper. A few days ago, however, I discovered that our Wal-Mart store sells milk about 50¢ a gallon cheaper. This is the regular Wal-Mart not the Super one.
Since we use about 6 gallons of milk each month, there is another $3.00 per month in savings. This gives us another $36.00 per year just on milk. It is a small thing but moves me another inch closer to my goal.

Flea Market Savings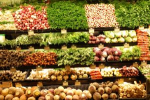 Saving money on groceries also means thinking outside the box. Throughout the year we have a flea market once a week where we buy our fruits and vegetables that are cheaper and fresher than the stores. Whatever is the cheapest will suffice for our family until the next time.
An example is bananas. Right now they're going for 50¢ a pound at food Maxx and raley's are 79¢ per pound. The flea market regularly sells bananas for 40¢ a pound. If at any time bananas cannot be had for less than 60¢ per pound we will move on to a different kind of fruit. This is just one example.
Let's get to one more way of saving money on groceries.

Saving Money on Food With Loss Leaders
Another way to save money on groceries is to look for what are called loss leaders. These are the food items on the first page of a store's flyer or ad that are sold at a deep discount to bring you into the store and hopefully purchase other things while you happen to be there.
I will keep a list of what to purchase on a list and only pick these up when we are in town as making a special trip uses extra gas that need gates the savings. It costs about $3.00 or $4.00 in gas each time we run our errands.
Again, we end up saving a bit here and there by combining errands, but a little bit and a little bit and a little bit add up to a lotta bit. Here is some information on saving money with coupons.
What are your ideas for saving money on groceries? I would love to hear about them below.
Back from Saving Money on Groceries to save money on groceries.