Home Budgeting Software
For Family Money Management

Here is a list of cost effective home budgeting software to help you stay within your spending guidelines.
Again, I have stuck with family money management programs that reside on your computer for security and peace of mind. And as before, the descriptions come off the respective home pages and clicking the links will open a new window. Each has a free trail period so you can try before you buy.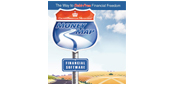 Crown Money Map
Crown Money Map™ Financial Software will lead you through the process of examining all your income and expenses. Meet specific financial goals such as reducing and eliminating debt, build balanced budgets, manage investments, and more. And the unique feature is that the software will teach you how to create a reasonable spending and savings plan.

Simple Home Budget is personal finance software, budget manager for everyone. It records transactions of all kinds and lets you analyze income, expenses and net income for 12 months. With only a glance at the summary chart, you can review your current financial position, the progress of finances, pinpoint costs and areas of excessive expenditure. You can project expected expenses and income and know how much money you will have at a future date. All these features give you more control over you finances and prevent you from going into debt.
Budget Advisor
Budget Advisor is a home budget software program which makes keeping track of your home budget quick and easy. No more wondering where your money goes each month - Budget Advisor will give you a detailed breakdown of your spending.

This comprehensive personal budget tool is for tracking, evaluating, and projecting family incomes and expenses. It has three main expense sections just like the Real World: Fixed expenses, variable expenses, and debt payments. It displays results in normal times, when retired, and when disabled. All gross and net of taxes, and with and without debt. It also allows you to compare what you actually spent to budgeted amounts.
If using home budgeting software on a computer is frustrating, why not try the envelope budget system?
Be sure to also check out the free budget calculator list.
Back from Home Budgeting Software to Budgeting Tools.