Cheap Gifts
Guaranteed to Save You Money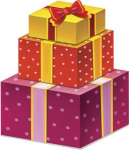 OK, cheap gifts for Christmas are on your mind. This page is being filled with practical money saving tips to help alleviate any burden to your household budget when deciding on your Christmas gift giving.
So go ahead, start perusing and get some ideas to save you money this Christmas ... or a birthday ... or an anniversary .... or any other gift giving reasons you might have. There is also a box down there at the bottom for you to submit your own idea to save money that you just know will help someone else.
These quality homemade holiday gifts helps you avoid excessive credit card debt and will have your family enjoying a great holiday while still living within your means. There is no reason to over spend; rather, set an amount per person you can afford and then get creative with these ideas.

Guest writer by Maria Rainier writes how that everyone on your list would prefer unique holiday gifts over the same old thing they've gotten used to year after year. You know what I mean – a necktie for Dad, a scented candle for Mom. C'mon we can be more original than that! And we can have fun at the same time, too, as well as keep a tight reign on the household budget.

Unique holiday gifts for $5 or less? Here are a few different ways to express yourself without breaking the household budget.
What about you? Go ahead now, write a title, click the link and then tell the rest of the world you story. Yes, by all means, include a link to your own blog or website.
Just tell us your ideas for amazingly cheap gifts for Christmas using practical money saving tips that allows families to keep to their household budget.
What Do You Think?
Write a paragraph or two (or four) so others may be helped. Write at least 200 words of thoughtful and relevant content and you may add a link to your site or blog and take the credit.


What Other Visitors Have Said
Click below to see contributions from other visitors to this page...

Christmas Shopping post-Christmas Not rated yet
Waiting until after Christmas and all the sales hit gives you and your loved ones a better chance at the gifts you really want, at a much lower price!
Return from Cheap Gifts to
Household Budget Planning Made Easy Home.