Homemade Holiday Gifts
Avoiding Excessive Credit Card Debt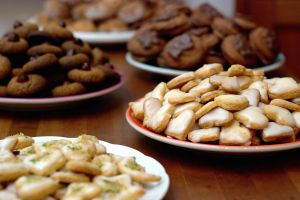 These quality homemade holiday gifts helps you avoid excessive credit card debt and will have your family enjoying a great holiday while still living within your means. There is no reason to over spend; rather, set an amount per person you can afford and then get creative with these ideas.


Holiday Food Gifts
You can make very inexpensive holiday gifts out of food. Choose your recipes carefully to avoid expensive ingredients. Watch for your ingredients to go on sale or buy in bulk to save money. To make it more fun, you may want to team up with another family and prepare your gifts together. Here are a few of my most popular ideas:
Beef Jerky. One roast can make quite a bit and most guys love this gift! You can make it in your oven at home if you don't own a dehydrator.

Homemade Candy. My friends bought inexpensive candy molds, white candy coating (the kind that can be melted) and white chocolate. They colored their melted white candy coating and painted the inside of the molds. Then they filled the molds the rest of the way with melted white chocolate. When they popped the hardened candies out, they had beautiful hand painted chocolates. Other cheap homemade candies include toffee, peppermint bark, buckeyes, peanut brittle and truffles.

Mixes. These make a really inexpensive holiday gift. You can do soup mixes, bread mixes, sauce mixes, pancake mixes - all kinds of mixes! Just take a favorite recipe and put together all the dry ingredients with directions how to prepare the food.

Healthy - If you prefer healthier foods, make granola to package up for a holiday breakfast (all our extended family loved this!) or frozen whole grain muffins to be popped in the toaster oven for a minute.

Sauces and Condiments. These are easy to make and easy to package. You can do pesto, BBQ sauce, salsa, gourmet mustard, roasted & seasoned nuts or croutons for salad, honey butter, blueberry syrup, etc.

Family Homemade Holiday Gifts
Save money by creating a fun gift for each family rather than trying to come up with something for each family member. My uncle has done this many times with our family getting us something a little bigger like games, a telescope, or a gift card. Here are some good family gift ideas:
Indoor or Outdoor Games You can find directions for many old games online and put together your own version.

Movies The trick is to find something the whole family will enjoy...so I usually go for classics or comedy.

Park Pass to a Museum, Park, or Zoo. My aunt did a zoo pass for us a couple years in a row and what fun we had with that. Instead of big long days, we'd go for many short visits and really enjoy each section of our zoo.

Art Supplies. What a great idea for homemade holiday gifts. My mother-in-law filled a couple sets of plastic drawers with all sorts of craft items for our family and those drawers provided hours of entertainment and many projects. Many of the items she included were recycled from around the house.

Subscription to a Service like Netflix, AudioBooks or a magazine of interest to the whole family.
Is your mouth watering yet? Can you see the crafts you made and the joy it brought to the recipient? When making quality homemade holiday gifts, you do not need to spend a lot of money and rack up excessive credit debt.
You simply need a little creativity and a whole lot of love and care for the one receiving. Get the children involved and make it even more special. What will you receive? Piece of mind for being able to continue living debt free ... and the smiles of gratitude for your thoughtfulness.
Mel, the Gift Girl, has been collecting gift ideas for years and shares her favorites on her website. Check out Mel's inexpensive holiday gift ideas.
Some more cheap gift for Christmas include unique holiday gifts on a budget and unique holiday gifts for $5 or less.
Return from Homemade Holiday Gifts to
Household Budget Planning Made Easy Home.