Unique Holiday Gifts on a Budget
by Maria Rainier
Everyone on your list would prefer unique holiday gifts over the same old thing they've gotten used to year after year. You know what I mean – a necktie for Dad, a scented candle for Mom. C'mon we can be more original than that! And we can have fun at the same time, too, as well as keep a tight reign on the household budget
Firstly, get an idea of for whom you're shopping. Most people aren't as hard to please as we may believe. A unique holiday gift is not beyond your reach even for your hard-to-shop-for-father or pernickety sister.
In fact, you don't need to spend gobs of money on frivolous gadgets that will just be sold at half its current price in a month or on new jewelry when your mother already has mountains of it. DIY gifts can be the cheapest, unique, and most thoughtful gifts during the holidays.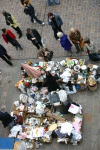 Take a look around local farmers' markets, thrift stores, and online DIY sites and blogs to get a feel for what's out there and what your finicky gift-recipients might enjoy. For example, farmers' markets not only have fresh produce but they also have local honey, hand-poured beeswax candles in various shapes and designs, and hand-made soaps that won't cause allergies. Thrift stores are veritable treasure troves of oft-looked-over vintage items like vintage scarves, hardly-worn jackets and snow boots, and old hardback books. There's something for everybody between these two places, and at minimal cost to you.
Here are three specific ideas for unique holiday gifts that are also kind to your household budget.

DIY Cookbook
Although a cookbook is a great gift for any foodie or someone in the family with their first kitchen, it's much more intimate to collect your favorite recipes for them yourself. From a thrift or crafts store, get a small plastic photo album. Go online for some of your favorite recipes—better to stick to a theme like breakfast foods, desserts, or salads—and print out card-sized printouts to slip into the sleeves. Design the cover yourself on the computer or by hand with color inks or pencils and add a personalized message before slipping it into the cover.

DIY Gardening Set
Get a cheap watering pail at the thrift store and fill it with gardening gloves and DIY seed bombs. Combine two parts mixed flower seeds with three parts compost and stir in five parts powdered clay (look for this at craft stores). Moisten the concoction with water and roll into about inch-wide balls. Dry them in an empty egg carton for about two days. Wrap each one in paper and twist and tie each end like candy. Leave a note of instructions for the seed bombs: throw, water, and watch it explode into beautiful flowers.

DIY Calendar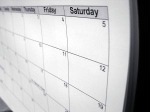 There are plenty of free calendars you can design, personalize, and print off on the Internet, but for a more unique holiday gift, fill the monthly image page with your kids' artwork. Scan each piece of art and save it as a jpeg file, and paste where needed. You can go to the local copy shop to Xerox it and bind it yourself, if preferred. This makes a great gift from Grandma and Grandpa.
(Editor's Bonus: Get a free
photo calendar template
to create a personalized calendar using Microsoft Word).

Create Some Family Fun
There are plenty easy and household budget-friendly ideas for unique holiday gifts online. Be sure to invite your spouse and kids to join in the crafts sessions to get in more quality time with the family, and share the credit with them come time for the big unveiling.
Maria Rainier is a freelance writer and blog junkie. She is currently a resident blogger at First in Education, researching various online programs and blogging about student life issues. In her spare time, she enjoys square-foot gardening, swimming, and avoiding her laptop.
Some more cheap gift for Christmas include homemade holdiay gifts and unique holiday gifts for $5 or less.
Return from Unique Holiday Gifts on a Budget
to Household Budget Made Easy Home.