Top Economical Accredited Online Bible Colleges Smart Ways to Save Money With a Quality Education
by Lauren Bailey
Are you thinking of going back to school? Accredited online bible colleges provide education that's focused on scripture and Christian principles and values.
They are smart ways to save money and enable potential students across the globe to pursue a degree from the comfort of their own home, using the Bible as the bedrock of learning, and can be quite easy on the household budget.
Christian education these days has become something of an anachronism, and since traditional, "brick-and-mortar" Bible colleges are by and large private institutions, if you wanted a solid Christian education in the past, you'd have to pay a lot of money.
However, with the proliferation of online universities, you can get the Bible education you've always dreamed of without breaking the bank. Here are three degree-granting institutions with a focus on the Bible. What's more, they're accredited, meaning you know that you'll be getting a worthwhile degree that's accepted by future employers everywhere.
1. Christian Leadership University
CLU is number 1 in Lamad Christian Education. The Lamad method of education places a particular importance on scripture as an integral part of the learning process. CLU offers thirteen majors and four different degree programs ranging from Associate's all the way up to Doctoral degrees, of which all are fully accredited. CLU also offers certificate programs if you don't want to get the full degree.
2. Ames International School of Ministry
Although Ames' program only grants degrees in Bible Studies, Ames is particularly cost effective amongst the many accredited online bible colleges. If you simply want to take a few courses in Bible studies, you can do so completely for free.
At a very low cost, you can enroll in their accredited Bible college program, which grants a Certificate of Biblical Studies and a transcript at the end of the program. You can transfer all these credits to Ames Christian University, a traditional university, where you can get a Bachelor's degree in Biblical Studies after taking only a few more in-class courses.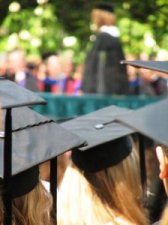 Although BBC is a traditional university, it also has a well-developed, established program. BBC offers both a Bachelor's and Associate's degree, as well as a certificate in Biblical Studies. BBC offers some graduate and seminary distance learning options as well. As with the above two accredited online Bible colleges, BBC is relatively low cost.
These are just a few accredited online Bible colleges in which you can pursue your dreams of living and learning through God's Word. Now, you don't have to break the household budget with these smart ways to save money while pursuing a solid Christian education and degree.
This guest post is contributed by Lauren Bailey, who writes on the topics of bachelors degree. She welcomes your comments at her email: blauren99 @gmail.com.
The next article in this Christian Finance Principles series asks if your own Christians finances reflect your faith.
Return from Accredited Online Bible Colleges to
Household Budget Planning Made Easy Home.