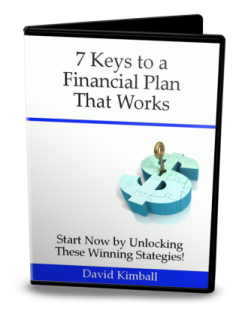 Unique Proven Techniques for Your Personal Financial Plan
Guaranteed to Work!

With this 7 Keys to a Personal Financial Plan That Works Seminar, you will hear ideas that will inspire you to life changing action. You are about to get your hands on the foundational seminar for personal finances and and kick start your household budget success.
Here is what you will learn after downloading and listening to this seminar:
The #1 thing that will prevent you from living your dreams and obtaining your desired results.
Why budgeting does not work.
The first step in getting out of debt.
The guaranteed way for your budget to fail.
I have learned that money is not fun for most people because most people do not realize that you have to understand it and if you are negative about money, or are consumed by it, you are never going to have a lot of it. Your financial plans are never going to succeed. And it does not matter if you make $20,000 per year or $100,000. The principal still applies.
And this is why you need to download 7 Keys to a Personal Financial Plan That Works now, listen, and then take action. There is a LOT packed into this 45 minute presentation, including,
The answer to the all important question, "Where is all of our money going?"
The only two things you can do when your budget is not working.
The two word "glue" that will guarantee results!
My bonus key to an effective financial plan. This one is golden!
And oh so much more! You will also receive:
The seminar in both the video (WMV) format and mp3 audio.
A PDF copy of the two page note taking journal so you can easily follow along.
Seven Financial Freedom Levels that you can start today.
You are now listening to a sample clip from the seminar. Refresh the page to hear it again. If you are unable to hear the seminar sample playing, then download to listen.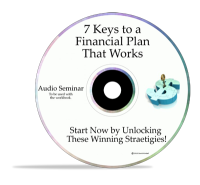 What do you think? I urge you now to not delay. As soon as PayPal confirms payment, you will be able to immediately download 7 Keys to a Personal Financial Plan That Works and learn:
What usually happens when you do not have enough money at the end of the month.
The one thing to tell your children that will change them forever!
Information without implementation is just plain plain ole' entertainment. Please don't get stuck in the paralysis of analysis. Life rewards those who TAKE MASSIVE ACTION IMMEDIATELY towards a planned goal.
Go collect some recycling if you have to, but do get this life changing seminar that will get you excited about becoming financially free!
Return from Personal Financial Plan
to Household Budget Planning Made Easy Home.