Money Saving Tips for Military Families Part 1 by Stacie Kimbell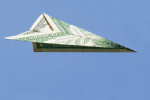 During rough economic times, money saving tips for military families abound to help you learn how to keep your dollars from flying away.
Unfortunately, it seems military families must make their paychecks stretch further all the time, even when the "rest of the world" is living great. These five tips will help you make ends meet while serving our country.
1. Do not shop at the commissary or the PX/BX for everything. At the commissary, you will probably save more money on produce and meat. For everything else, shop around. The commissary does not sell generic brands, so you might get a better deal if you shop off-post and buy store brands. Many military advocates will tell you to shop at the commissary as often as possible, because this benefit will disappear if not enough people use it. But you must take care of your family first, so do whatever it takes in saving money on groceries.

The PX/BX often has a price-matching guarantee. If you can find the same item off base for cheaper, the PX/BX will match the price. If you are willing to do a little research, this can be used to your advantage.

2. Maintaining a price book is another of these great money saving tips for military families. A price book is a little notebook where you can record your purchases. Many people use them to keep track of grocery prices. Whenever you go shopping, write down the date, price, the item you bought, and where you bought it. This way you can see where the really good deals are and keep track of sales cycles. There are many ways to arrange a price book. Search for "price book" on the Internet, and you will find several great tips.

3. Ask for military discounts wherever you spend money. The worst they can say is "no." When you find a business that gives military discounts, tell your friends!

4. Decide if your BAH (Basic Allowance for Housing) will go further off-post or if you will do better living on-post. BAH amounts depend on where you are stationed. The higher the cost of living, the higher your BAH will be. If you live on base, you will not receive BAH. However, your rent, electric, gas, trash, and water bills will be paid. If you decide to live off base, make sure your BAH will cover the cost of rent and these utilities. Sometimes you can get a good deal off-post, but other times it is better to live on base and forfeit your BAH.

5. Learn about your next duty station before you get there. You can look up the website of the military base, surrounding cities, and school districts to help you discover the highlights of your new assignment. Many offices on base will have helpful resources, too. This makes you more informed about housing, schools, and job opportunities for your spouse.

Keep as Much as You Can
With a little bit of time and research, you will find many ways to save your precious military paycheck. After all, you worked hard for that money. Keep as much of it as you can! Now hold on, there are five more money saving tips for military families that will help you a lot.
Find additional financial advice and other resources for military families including a list of merchants that offer military discounts.
Stacie Kimbell is a veteran military wife whose hobbies include frugal living, gardening, and cooking. She and her husband are expecting their third child in June and trusts her money saving tips for military families will help others thrive on a fixed income.
Back to more money saving idea and tips.
Return from Money Saving Tips for Military Families to
Household Budget Planning Made Easy Home.