How to Finally Live
Debt Free and Wealthy
Book Review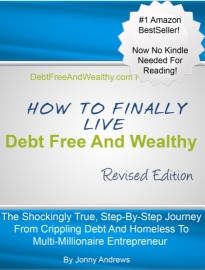 I really like the title of Johnny Andrews Amazon best-selling Kindle book, How to Finally Live Debt Free and Wealthy. As I sat and studied it to discover why, I realized it is the emphasis on the word Finally, which is purposefully underlined by the author.
Yes, finally live debt free. So many people, including many of my readers here, have tried and failed, tried and failed, tried and failed to live debt free. So, you may ponder, what is keeping this from happening? From my family financial coaching experience of working in the trenches one and one with others, it boils down to one of three things:
1.Not having an effective and proven step by step system, or
2.Not having the required self discipline to live out the system to fruition, or
3.Both.
And yet these are the very two things Johnny Andrews communiques to his readers in How to Finally Live Debt Free and Wealthy. It took him five years to get out from under $64,000 of debt yet ended up a multimillionaire. Not bad for a former homeless guy.
His constant theme throughout the book is,"You CAN do it!". And the way to do that is to, "provide an amazing value to others by helping them overcome their problems."
Do you not pay others to help you solve your problems? Every day. You get hungry, thirsty, want entertainment, need an apartment, earn interest, etc. In all of these, and numerous other problems, we fork out our hard earned money to get them solved. So, why not provide your own solution that others are willing to pay for?
The last half of How to Finally Live Debt Free and Wealthy, best selling author Johnny Andrews breaks down his two step system:
1. Eliminate using a debt snowball type method he calls the Rapid Eraser System. Now, this may seem simple on the outset, yet is really profound. Eliminate credit card debt and all those payments turn into instant extra wealth. Imagine all the money you have been "giving away" paying for many things you may not even own anymore!

2. The next step is to earn extra money, or even a fulltime income, helping others solve their problems. And creating wealth using the Internet is his method. Coming from an Internet marketing background, Johnny Andrews is passionate that anyone, even a homeless guy, can make a healthy living online in this great country of ours, or any country with an Internet connection.
My only disappointment when finishing this book is there are no specifics on creating wealth using the Internet or any resource recommendations, although the reader is invited several times throughout the 40 page book to opt-in to his free list to learn more.
However, be forewarned. Internet marketing, at least legitimately, is not a get rich quick scheme. It took the author five years to make it. And speaking from personal experience, it usually takes over a year to lay a good foundation to begin earning any real profit. Creating a website for passive income is a long-term endeavor, yet an incredibly potentially lucrative one.
My website is right to the top 1% of all web sites in the world and finally earning income from it. I have had a clients from my own geographical area as well as all the way in Canada. I even almost landed a client in Africa!
For me, the best system on the planet for doing this is Solo Build It. It is the one I use for two of my websites. I reach a global audience with a message of hope, providing a needful solution to a desperate problem of financial bondage.
And this is the exact formula Johnny Andrew teaches in his Amazon Kindle book, How to Finally Live Debt Free and Wealthy. So, go grab a copy, get motivated, and take action. We're here when you need a little help.
Back from How to Finally Live Debt Free and Wealthy Book Review to Household-Budget-Made-Easy.com.