Family Fun Activities
Ideas for Saving Money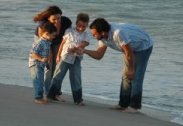 There are lots of options for affordable family fun activities with such as these ideas for saving money that are fun and allow you to enjoy yourselves as a group and still keep to your household budget. Here are a dozen to get you started. Tell us your idea as well.
1. We know that children really enjoy seeing the latest theatrical releases, but a night at the movies can be unbelievably expensive. If you want to get the kids out to the theater, try taking advantage of movie matinees. You can usually get a good savings at a matinee, even though you usually have to wait for the movie to be out for a couple of weeks first.

Also, your town or one nearby might still have a drive-in. A drive-in movie is not just a movie; it's an experience for the entire family. For the kids, it's like a camping trip with a really big screen. Drive-ins can fit perfectly well with your household budget since you can bring all the snacks and drinks you want from home instead of paying the inflated concession prices. A night at the drive-in movies is really one of the best affordable family fun activities available.

2. There's always the enjoyment of a day or two in nature. Perhaps your children enjoy camping and bonfires, marshmallow or hot dog roasting, backpacking, biking, fishing, hunting, canoeing, swimming, sailing, skiing, skating, snowboarding, or picnicking. Wow, now this is some great outdoor family fun activities!

3. Parks and recreation areas in your region are often open in all seasons and offer swimming, baseball, basketball, soccer, volleyball, walking and jogging trails, along with nature exhibits and birding activities.

4. If your children are young, there are many playgrounds and free kiddy parks to enjoy. Contact your local Parks and Recreation Department to find out what opportunities exist in your community.

5. Historical sites like colonial forts, lighthouses, civil war encampments, and the like, are often open to visitors for free or small admissions costs.

6. Often times there are local museums, art galleries, craft fairs, and carnivals that admit children for free or families at a good discount.

Are you exhausted yet from all of these great family fun activities? Hope not! Because here are more ideas for saving money and being kind to your household budget:
7. Local sporting events on the high school or college level like baseball, basketball, and football often admit children and students for free or at a discount. Little league baseball, football, and soccer games are almost always free for anyone wanting to watch.

8. Have each of the children pick out their favorite game and play them all at night while enjoying popcorn and each other.

9. Put the kids to work checking out the newspaper and message boards looking for things that they would enjoy doing together. Offer a prize for the one who finds the most fun thing to do.

10. Try substituting a barbecue in the backyard for a night out a restaurant or an evening of good, old-fashioned board games like Monopoly or Clue instead of an expensive night at the arcade.

11. Stay home and have a video and ice cream night. Create a picnic environment in the living room. Rent a movie for a dollar and buy a $3 half gallon of ice cream.
Be Creative and Have Fun
Enjoying these opportunities will not only provide you with family fun activities that cost little for you to enjoy, but activities of this nature are proven to build a bond between parents and children. Siblings also learn that they can enjoy one another's company in a fun, family atmosphere.
There are loads of things you can do together for free or at very little cost that qualify. Be creative, be imaginative, be together, and have fun.
If you put some thought into it, you will easily come up with many other family fun activities with your own ideas for saving money. Doing so is a great way of teaching kids about money.
What is Your Idea?
You have been given eleven ideas for saving money with some family fun activities. What about the twelfth one? I need your help to come up with a really creative one. Please fill out the form below and let the whole world know of your idea. It must be really fun and really inexpensive or free.
I have many more of the easiest ways to save money to help you such as ways to make home repairs yourself.
Your Ideas for Saving Money
With Family Fun Activities

What is your really fun and really inexpensive (or free) family fun activity? Share it!


Other Family Fun Activities
and Great Ideas for Saving Money

Click below to see contributions from other visitors to this page...


Cooking Together With the Kids Not rated yet
You can decide the recipes beforehand with the help/suggestions from kids and whole family can cook/eat together and have fun. This really helps to increase …
Return from Family Fun Activities to
Household Budget Planning Made Easy Home.