Welcome back!
In four months, most of us will be spending much more time outside, beginning the summer time type activities. This usually is a time when spending goes up. However, it does not have to be. Start planning now what kind of activities your family will do this spring and summer ... and budget accordingly!
I have given you a link to an article with plenty of low cost family activities. Be sure to leave your own idea.
Enjoy this issue of the Financial Freedom Newsletter!
Until next time .....




Avoid Prepared Foods
Not only are they bad for you, but they are much more expensive than buying the ingredients yourself. As an example, you can pay as much as $10-$12 for a box of frozen chicken, but you can buy fresh chicken for half that. Once again, do the comparisons before deciding which product to buy.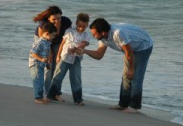 Family Fun Activities, Ideas for Saving Money
by David Kimball

There are lots of options for affordable family fun activities with such as these ideas for saving money that are fun and allow you to enjoy yourselves as a group and still keep to your household budget. Here are a dozen to get you started. Tell us your idea as well.

1. We know that children really enjoy seeing the latest theatrical releases, but a night at the movies can be unbelievably expensive. If you want to get the kids out to the theater, try taking advantage of movie matinees. You can usually get a good savings at a matinee, even though you usually have to wait for the movie to be out for a couple of weeks first.

Also, your town or one nearby might still have a drive-in. A drive-in movie is not just a movie; itís an experience for the entire family. For the kids, itís like a camping trip with a really big screen. Drive-ins can fit perfectly well with your household budget since you can bring all the snacks and drinks you want from home instead of paying the inflated concession prices. A night at the drive-in movies is really one of the best affordable family fun activities available.


Continue reading ...



Rule No. 1: Never lose money. Rule No. 2: Never forget rule No. 1.
Warren Buffet

There is treasure to be desired and oil in the dwelling of the wise; but a foolish man spendeth it up. Proverbs 21:20

Financial Freedom Resource Center


Have you taken advantage of what is available to you at no cost as one of my valued subscribers?

Ebooks and Podcasts as well as back issues of this newsletter are available. Let me know if you have forgotten the password that was sent in your welcome email.

Go there now ...





Personal Financial Coaching


It is my passion to help families prioritize now to make sure that one parent can stay at home. If diligent, you can be debt-free in 36 months or less without buying insurance, investments or magic software. This is advice you can trust because I do not sell any of these things.

If you are ready for some personalized financial coaching or a speaker at your next event, send me an email or call (209) 622-3299.