Hello again,



As I was in talking with a Pastor and his wife about bringing my Financial Freedom Bootcamp to their church, an incredibly flattering comment was given.
Upon asking why I was being chosen as opposed to the bigger named programs, the reply was, "Because your system looks doable."
And doable it is because whether you are with me in a group or in a one-on-one personalized financial coaching session, I help you put the "personal" back into personal finance.
If your church, group, or family is ready to save money, get debt free, and live a financially free life, give me a call at (209) 622-3299.
And thank you Morri and Robin for your trust and being a valuable part of this Financial Freedom Community. I will be sure to get you one of the first copies of my new book due out on Amazon in a few months!
Until next time .....





David Kimball


Increase your Cash Flow Without Snowballing Your Debt
• Take on a hobby that you can translate into dollars. Can you walk a neighborhood dog? Teach basket weaving? Host a dining room? Baby-sit for your sister's kids? Do Computer graphics? Consider which of your talents might be worth a few extra bucks and then go out there and do it.
• Take on a part-time job. The holidays are soon coming up, and many people supplement their salaries with part-time retail jobs. Just don't spend it all on holiday gifts and be sure to bank it into your savings.
• Spend more wisely. We all have our own ways of wasting money. Now see how you can eliminate the ones that you wouldn't miss. Just saving the dollar you would normally spend on that cup of coffee each day adds up.
• Borrow from a trusted friend or relative. The interest rate is low to nil, the cash is quick—but guilt is even higher. Be sure you have a plan for how you're going to pay back the loan even before you approach them.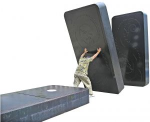 Christian Financial Struggles, Answers to Christian Finance Questions
by David Kimball

Christian financial struggles are so prevalent in our culture that the number of bankruptcies are just as high as non-believers. Many Christians believe in their hearts, souls and spirits that God is in charge, and can easily provide for them in their time of need. And yet, many Christians throughout the world struggle with financial issues. How is this possible?

"Make all you can, save all you can, give all you can. John Wesley

He who has no rule over his own spirit is like a broken down city without a wall. Proverbs 25:28

Financial Freedom Resource Center


Have you taken advantage of what is available to you at no cost as one of my valuable subscribers?

Many eBooks and Podcasts as well as back issues of this newsletter. Let me know if you have forgotten the password that was sent in your welcome email.

Go there now ...





Personal Financial Coaching


It is my passion to help families prioritize now to make sure that one parent can stay at home. If diligent, you can be debt-free in 36 months or less without buying insurance, investments or magic software. This is advice you can trust because I do not sell any of these things.

If you are ready for some personalized financial coaching or a speaker at your next event, send me an email or call (209) 622-3299.